How to Clean Composite Door
Composite doors are extremely easy to clean, making them a fantastic option for homeowners with busy lifestyles. If you want to clean your composite front door, all you need is soapy water and a soft cloth. We do advise avoiding abrasive or rough materials; these doors don't need scrubbing. The durability and resilience of composite doors mean they don't collect enough grime and dirt to require rigorous cleaning.
Composite doors are one of the easiest front doors on the market to clean. Compared to doors crafted from singular materials, composite doors have stunning visuals with none of the high maintenance drawbacks.
Low Maintenance Composite Doors
Composite doors are one of the most popular choices for Fareham homeowners looking to improve the look and performance of their homes. Our stylish composite doors are manufactured using innovative technology and modern materials so that you can enjoy long-lasting aesthetics and security.
Renowned for their strength and security, our composite doors are an ideal replacement if your current doors are starting to fail. We know you are busy, so our low maintenance doors free up as much of your time as possible. You can spend less time worrying about maintaining your front door, and more time enjoying its many benefits.
If you're looking for the timeless aesthetics of traditional timber doors but don't want to compromise on security or thermal efficiency, composite doors are ideal. They won't suffer at the hands of the elements, offering a long lasting performance.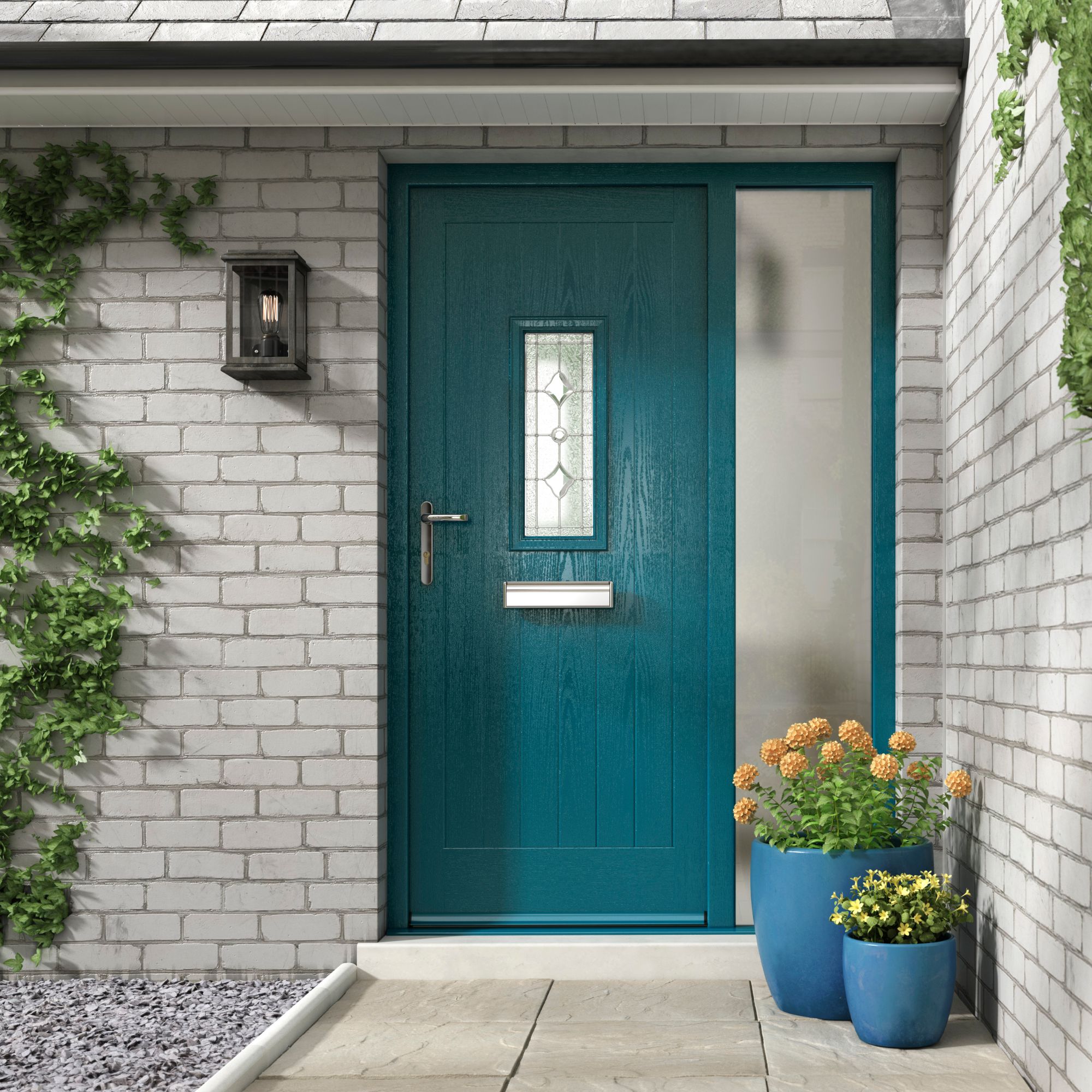 Guide to Cleaning Composite Doors
It couldn't be easier to clean your composite doors. Unlike older, outdated profiles, they can be cleaned without expensive or specialist cleaning solutions. A sponge and a bucket of soapy water are enough to keep your doors looking as good as new.
These durable doors won't be left with scratches or unsightly marks if you regularly wipe them down. If you encounter any tough stains (which is a very rare occurrence), you must resist the urge to use a PVC cleaner. Non-abrasive cleaning solutions are more than enough to clean your composite door, abrasive solutions might cause harm.
Clean Your Composite Door Glass
To clean the glazing of your door, start with a bucket of mild, soapy water and a gentle clean cloth. Use a soft touch, especially when cleaning the glazing, as to not scratch or damage it. Even though our doors are made using toughened glass, use a light hand.
Once you have cleaned your front door glass, make sure to wipe it with a dry cloth and apply a standard household glazing cleaner to make it shine. It has never been easier to clean double glazing!
Clean Your Composite Door Furniture
A fresh bucket of soapy water will help you clean the furniture of your composite door. This ensures that no grime or dirt is moved around the door. You can get a sparkling finish on knockers, letterboxes, and handles with ease.
With this hassle-free process, it is easy to maintain the overall aesthetic of your composite doors. Create a welcoming entry, inviting access point, or a bold statement in the neighbourhood. You can achieve all this without the need to waste time frequently cleaning your composite doors. Compared to other materials on the market, composite doors need cleaning less often and deliver all-round results.
Maintain Your Composite Door
It takes very little to maintain the functionality of the other components of your composite doors, ensuring it stays performing better for longer. A little upkeep can ensure the many high performance features staying benefiting your home for longer.
When cleaning your composite door, pay attention to all the hinges and locks. These are vital parts of your door, so you'll want to make sure they are working at optimal performance. As little as every six months or so, you should add a little oil to ensure your hinges work smoothly.
If you're unsure of how to look after your composite door, get in touch with us today. Every member of our team is committed to delivering exceptional results from the moment you get in touch, through to installation and aftercare. Cleaning your door is important, and will make sure that you have all the information you need to keep your composite doors looking better for longer.
Composite Door Prices
Explore our other styles today, or use our free online Door Designer today to find your ideal composite door design for your property. Alternatively, you can contact us by filling out our online contact form. One of our experienced yet friendly team members will get back to you as soon as we can. We have all the information you need about maintain composite doors.
We look forward to hearing from you soon!
Categories: Composite Doors