Composite Doors Near Me
Based in Fareham, we design and install premium composite front doors to homes in the local region. Composite doors take the best elements of uPVC, solid timber core, insulating foam, and glass-reinforced plastic skin (GRP) to deliver a secure door.
Here at Buildmydoor, we have over two decades of experience in the industry and can guide you through the composite door installation process. From the moment you get in touch for a quote, through the design process and installation, we will be on hand to help. Our experts offer impartial advice based on their years of experience. Use our online door designer to help create the perfect door for your property.
Composite front doors can be customised to complement any home in your local area. You can choose from a selection of durable colours, hardware accessories and finishes. Our composite doors will suit any property in the Fareham area, from modern builds to heritage homes. We other three different designs, all with their own unique benefits.
For homeowners looking to maintain the traditional aesthetic of their property, our traditional solid core composite doors are the right choice for you. These doors replicate the look of authentic timber without all the maintenance issues. The innovative manufacturing techniques deliver durable performance, even in the most adverse weather conditions. Enjoy a composite door that won't warp, rust or corrode.
Our solid core composite doors are crafted using 16 layers of laminated veneered timber. These layers are specially positioned to prevent any weakness. The external layers of uPVC, insulating foam and GRP work together to give you a profile that will keep your home comfortable and dry all year round.
Our contemporary composite door designs aren't just exclusively for modern homes, they can add a sleek aesthetic to any era of the property. This door design comes with a range of glass panel options to consider. You can control how bright or how private your new door is.
Solid core composite doors deliver outstanding levels of thermal performance and will continuously insulate your property. We fit our doors with an advanced locking system to ensure that you and your family feel secure in your home. Our composite doors are the perfect mix of form and function.
The urban solid composite door is designed to suit both modern and traditional homes. It comes with a range of versatile accessories, including long metal pull handles. If you are looking to add a decorative feel, choose from central, squared, and offset glazing.
Urban composite doors deliver a range of practical and visual benefits to enjoy for many years to come. The thick 16-layer timber core and insulating profiles will always keep your home comfortable. Due to the innovative manufacturing of our doors, you can trust that we have installed a home improvement solution that will keep you and your property safe.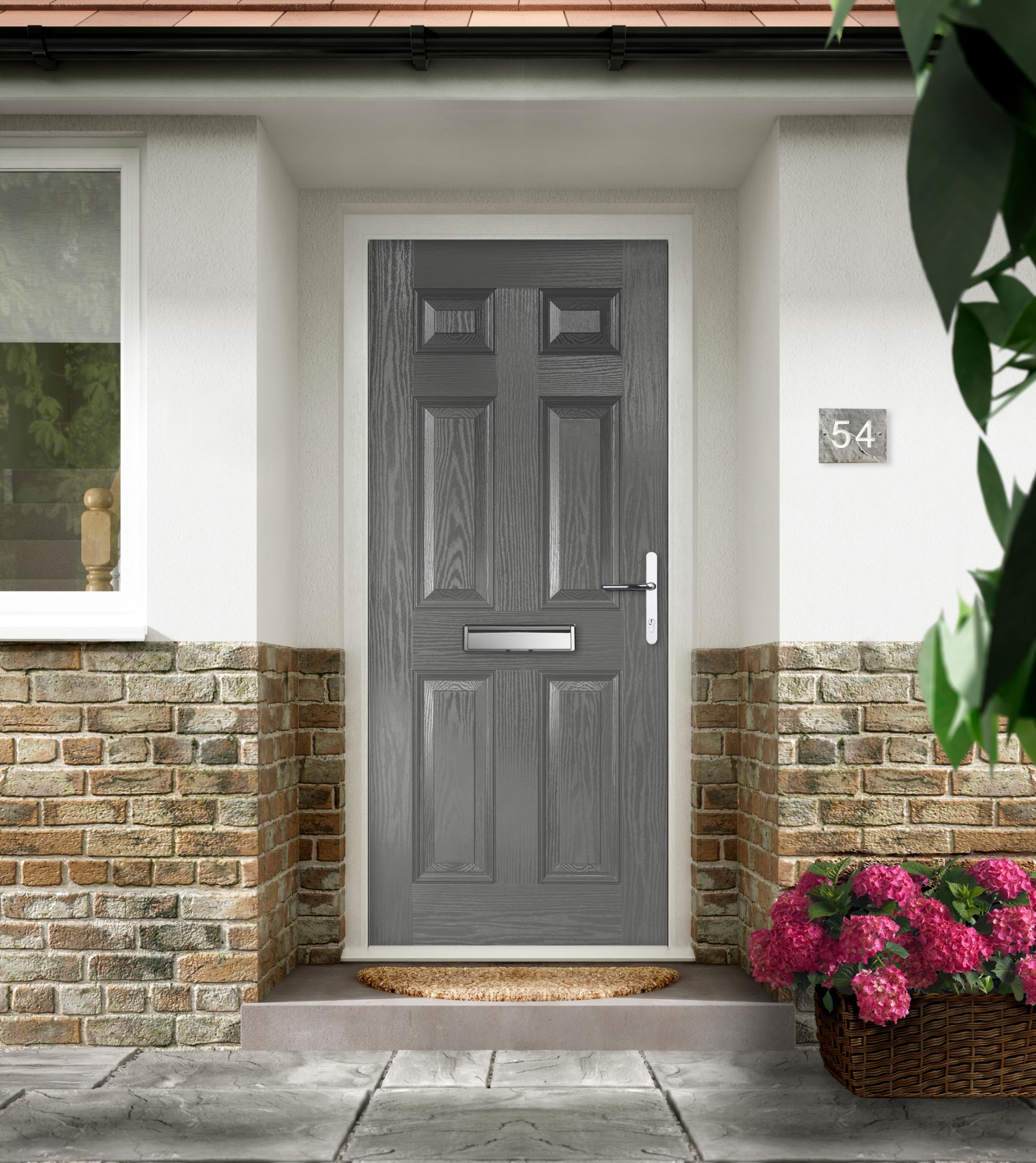 Choose from 13 colours, allowing you to get the perfect design for your home. From modern greys to classic green tones, we will have a shade for your design specifications. Our team will help you find a finish that feels authentic to your home or a hue that is a bold statement.
You can also choose from our versatile selection of hardware accessories. Get door handles that feel cohesive to your existing double glazing without compromising on safety. We offer three doorbell types with technological advancements like app control, camera functions and voice activation.
All our solid core composite doors come with an 11-pin Ultion lock fitted as standard. You have the chance to upgrade this and further improve the security of your home. Every lock we offer has been thoroughly tested to ensure it meets the latest industry standards. Our locks have been designed to be easy to open for a homeowner, whilst also delivering optimal security.
Hinges are a very important part of the security system of your composite doors. Our hinges are heavy-duty yet elegantly slim, adding to the rigidity without affecting the aesthetics. You can customise your durable handle from a range of colours and metallic finishes. If you want to find out more about how safe our doors are, please take a read of our composite door security page.
Composite Door Prices Near Me
Start designing your new composite doors today with our useful online door designer. You can play around with all our door styles and design options until you find the right profile for your home and specifications. We will give you an instant price so you can get a better idea of our services and can budget accordingly.
If you still have queries about our composite doors, please get in touch through our online contact form. You can give us a call on 02380 970105 and chat with one of our friendly experts. We are on hand from the moment we give a quote, right through to installation and will happily answer queries you may have.
Categories: Composite Doors