Composite Door And Frame Cost
Depending on the style, finishes and hardware options, composite doors and their frame can vary in cost. We are proud to offer a wide variety of door styles, which you can tailor to match traditional or more modern homes. The wide combination of accessories and finishes mean the composite door and frame have different costs. You can choose the style, colour and hardware accessories, giving you a truly bespoke price.
If you don't know where to begin, our team can guide you and offer bespoke design options, and you can get an instant quote. You can also take a look at our composite door prices if you need some more inspiration. Composite doors are a great choice for any property and will provide you with a great range of benefits.
Design Choices
Depending on the style you go for can affect the composite door and frame cost.
Range
We have a selection of door ranges for you to chose from. these include Traditional (Solid Core), Contemporary (Solid Core Grained), Urban – Cottage (Solid Core Textured), and Urban – Flat Skin (Solid Core Grained).
Design
The design of the door can dramatically change the overall appearance. We have a wide choice of layouts, which can offer either a traditional or contemporary aesthetic. Each range has its own wide selection of door designs. For example, traditionally comes with more Heritage-style designs such as Caunton Grill and Minister. Contemporary has options for increased privacy, with long, thin window inserts. Urban is a bit more unique with the design, with curved window styles. All of the designs can alter the price, so it's best to use our door designer to find out how much your dream composite door and frame will cost.
Frame
The frame configuration can add a statement to your home in Hampshire. Choose a panel to add to the door to shape the entire door. You can choose any of top, left or right panels to add to the composite door. The frame is made with glass that will let natural light stream into your property. The more sidelights you have within the frame, the brighter the inside of your property will be! Depending on the framework you go for will alter the cost. With mroe glazing panels, the price will slightly increase. Choose the frame to perfectly suit your needs and enjoy a door that is fit for purpose yet stylish.
Colour
Choosing the colour finish can change the cost of the composite door. You can decide from external door colours as well as white for the internal body. The door colour can be customised in colours including Red RAL, Chartwell Green or more traditional Golden Oak. The external frame colour can come in a different shade to the body of the door for more or a statement. Alternatively, you can choose the same colour for a sleek finish. Our frame colours include Rosewood, Agate Grey and much more. The colour of the composite door and frame will vary in cost depending on your configurations.
Glazing
Glass designs add a unique finished look to composite doors. We have clear and obscured options, and also offer a range of patterned finishes. These come in a choice of colours to make a statement to your home while retaining your privacy. We also have more subtle glazing back designs which you can choose with or without the glazing options. Not only this, but you can choose how to style the framework including midrail or brickwork. These will change the look of the composite door while adding visual appeal to your home. Again, the choices of glass and alterations to the framework can affect the cost.
Accessories
Choosing a finishing accessory can upgrade a composite door significantly. Choose a letter plate, knocker, or even a spy hole on the composite door. you can also select the hinge you are after in a variety of finishes and materials. Each of the accessories has been expertly designed for long-lasting usage. They are incredibly low maintenance, only requiring a wipe down every so often. The accessories won't warp, rot, or damage, even when exposed to the elements. This means you are improving the look and performance of your composite doors. The cost will change slightly based on the accessories you select.
Handles and Locks
Hardware can change the cost of a composite door. We have a selection of finishes including Rose Gold, Matt Black and Graphite amongst others. You can decide on the door handle to suit your personal style. We offer Lever Pad, Lever Lever and many more. WE also have the potion for the Ultion Lock upgrade. This innovative piece of technology works by detecting intruders and enabling a 'lockdown mode'. This will prevent any unwanted intruders from gaining access. the extra cost for this fantastic upgrade is worth every penny for the safety of your home.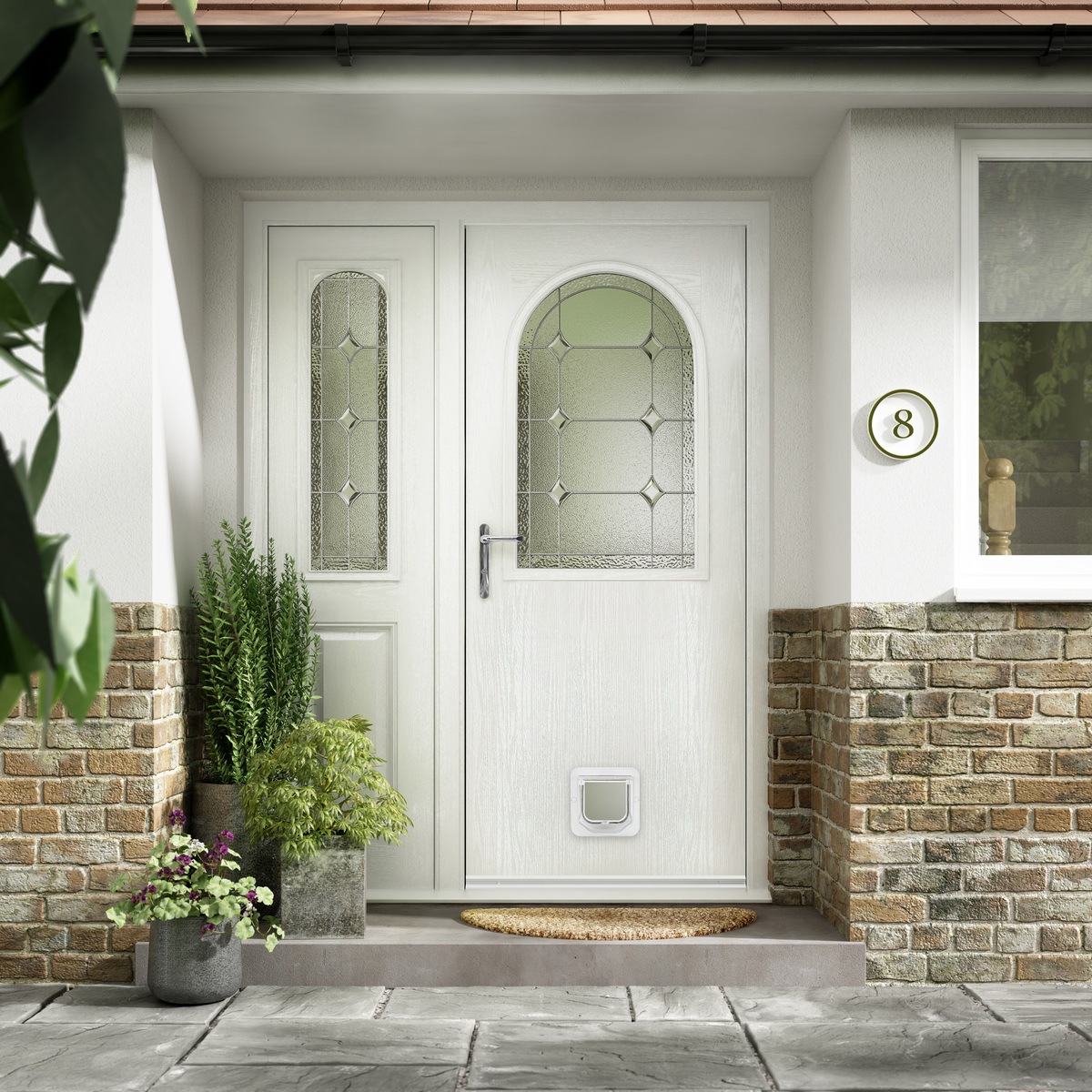 Composite Door And Frame Cost
Find out more about how much our composite doors and frame costs. You can use our free online door designer to see the prices. You are welcome to design your ideal composite door, choosing from our customisation options.
Get in touch with our team today to ask us anything. You can give us a message using our contact form or call our team on 02380 970105. We look forward to working with you!
Categories: Uncategorised