What Is A Composite Door?
Composite doors are a modern combination of uPVC, a solid timber core, insulating foam and GRP (glass reinforced plastic). They are also incredibly secure, weather-resistant and low maintenance. Composite doors are made to endure force, made to stand the test of time. They will last for decades to come, without need for repair. Composite doors are an exceptional investment for homeowners.
Composite doors are a superb option for both traditional and contemporary-style homes. A huge benefit of the composite doors we offer is the customisation. Our expansive range of colours, glass and hardware accessories ensures our customers can choose how they want the finished product to look. The visual appeal will certainly add value to your property.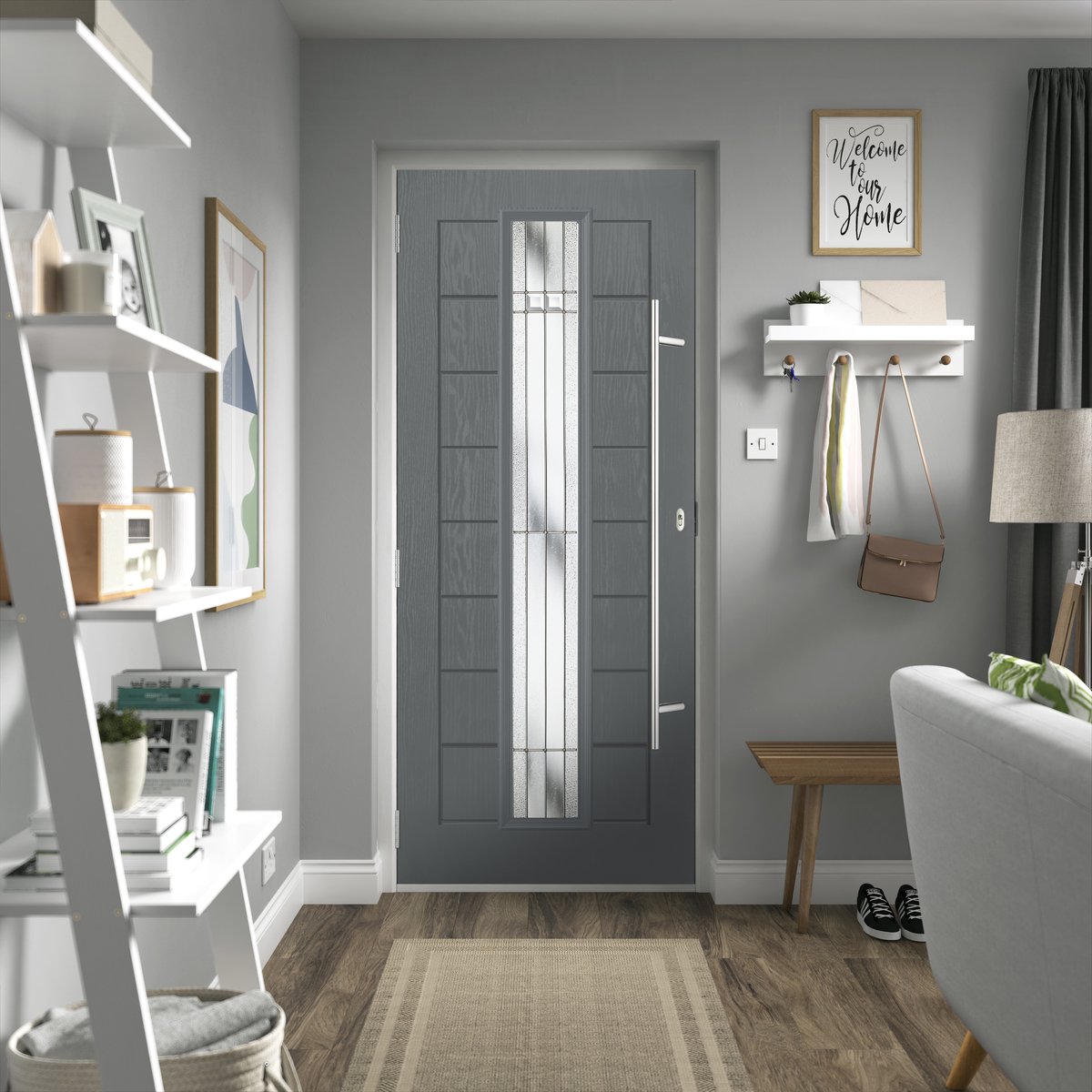 Benefits of Composite Doors
Composite doors are the perfect blend of style, security and durability. The combination of materials has been designed to combat the issues with other styles of front door, including timber and uPVC. Using the best qualities from other doors, the products we offer are some of the best on the market today.
Thermal Efficiency
It's never been more crucial to make your home more environmentally friendly. That's why our composite doors use recyclable timber and a foam core to improve your home's insulation. With a warmer living space, you'll need to use your central heating far less.
That way, you'll be helping the planet and also filling your pockets with fantastic energy savings. Our composite doors are also fully weatherproof, ensuring that your home will stay a peaceful and warm space, whatever the weather.
Secure
Composite doors are incredibly secure. We use some of the top security measures so our customers remain protected. With multi-point locking mechanisms in all our hardware.  Unwanted intruders won't gain unlawful access into your property through our high-quality doors.
We use Ultion cylinders as an option within our locks, which can detect threats and intruders. Using state-of-the-art technology, the Ultion can detect forced entry and activates 'lockdown mode'. Our multi-lock system is fitted with the solid timber core so you can relax.
Weather Resistance
All our composite doors come fitted with a robust GRP (Glass Reinforced Polyester) skin, which protects it from any weather. They won't rot or distort with damp weather as they have all been tested on their resilience.
Each door goes through a rigorous durability process, ensuring it can withstand force. The inner core is designed for integrity, maintaining your security. This is also important during strong winds and wet weather.
Customisation
We give you freedom in the design process of the composite doors. With Buildmydoor, we let you choose from our selection of customisation options so you are satisfied with every little detail. There are 13 colours to choose from, suiting both traditional and modern homes. These are made with a colourfast coating to prevent cracking or discolouration.
We have a selection of hardware accessories and additional features for a unique finish to the composite door. You can add traditional handles, letterboxes and glass patterns to give the home improvement a personal touch. For both domestic and commercial projects, we can cater to the aesthetic. From heritage-style properties to more modern styles, we have the option for you.
Composite Door Prices
Design your ideal composite door using our online designer today. You are welcome to explore the combinations until you're happy with the final look. You can get inspiration on our gallery to see our previous installations!
You can give us a message using our contact form. Ask us anything about our entire range, and we'll get back to you as soon as possible. Alternatively, you can call our office on 02380 970105 and we'll help with your queries.
Categories: Uncategorised